Suleiman Bahati Abdalla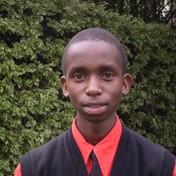 Born: 2004
County: Garissa
Suleiman is an extremely bright, well-behaved boy. Both of his parents are alive but very poor and illiterate. They practice peasant farming and the little they get is not enough to feed and educate their large family of eight.
A well-wisher assisted Suleiman so that he could complete primary education. Despite difficult family circumstances, he worked very hard and obtained 415 marks out of possible 500 in the Kenya Certificate of Primary Education.
Despite this, he had no hope of ever joining secondary school because no one could pay the fees for him. On the recommendation of his local Chief and Imam, we offered Suleiman a Form One place at Starehe Boys' Centre and are now seeking for sponsorship support for his education.