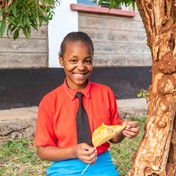 Former student Zainab Mejja Adam talked to current students about life at Starehe. This is what they told her:
Nitalie Wanjiru Wang'ombe
"I am very happy to be at Starehe Girls' Centre. It's not only about our academic studies, but also about the way we eat, the way we sleep. Some of my fellow students say they've never slept on a mattress before - it's a very clean and comfortable school. 
It feels such a great opportunity to be here. I remember one of the first things we were taught was courtesy: learning to say sorry, you're welcome and thank you. I think these things are very important as it helps you grow as a person and to be able to contribute to your community.
When the school closed because of Covid-19 I didn't think it was going to be for too long - I didn't even take many books home with me. Whilst I was home in Kiambu county I helped my cousin selling face masks. That way I was able to help provide for my family.
I missed school very much, but most of all I missed my friends. I missed the way we would have fun at school. For example, I would even miss the way we'd scramble for buns when we have lunch together, which is just a fun way of being together. But being at home it was just me and my brother. 
Covid-19 affected my family deeply. My mum was working in a hotel but because of coronavirus she had to move and she now has a job selling scrap metal. I do feel that we grew much closer as a family during that time - we grew spiritually and came together as a family. My elder brother was also able to spend time with me and give me some tips for studying. I wasn't able to learn through lockdown - there was so much to do around the house and helping to earn some money but I know what I need to do now I am back at school.
Attending Starehe school has opened up a lot of doors for me. We can get to apply for other scholarships, for instance to get sponsored to go to university. I have benefited spiritually and mentally from the advice we get from our teachers and counsellor. This has inspired me to think about how I can support others and I would like to get some training in counselling to help others further."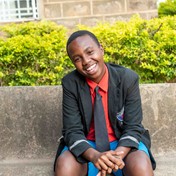 Ian Karaya
"Being at Starehe means everything to me. It makes me feel so proud to be part of it.
When the school was closed due to coronavirus, my sister and I had a tough time at home. Our focus was on how to save money through the outbreak. I sold bags of biscuits with my mum on the street and I recall vividly that if we sold two of them, that would be just enough to buy milk. 
We had to relocate to be closer to the hospital where my mum needed kidney dialysis treatment - we couldn't afford the bus from where we were. Though it was a slum area we had to do it because of the circumstances.
But it was the values instilled in me from Starehe that taught me how to survive. It has taught me that whatever faces you, if you persevere and stay strong, you will emerge victorious.
Many of my friends passed on because of the coronavirus outbreak, but here I am alive and kicking thanks to God. 
My mum died from kidney disease soon after I returned to school. It is through the experiences I shared with her at the hospital that inspired me to become a doctor in future. I could see that the patients at the hospital were suffering and I would talk to them and cheer them up.  My mum always encouraged me to pursue my studies. She raised me to be someone great and I'll never forget her.
Coronavirus has really affected my life. I've been feeling anxious and worried about the effect on my performance at school. When I came back and did my exam, I was shocked. I am working hard to catch up as I am determined to achieve my goals in the future. 
It has been an amazing opportunity to be here. As my family didn't have enough funds,  everyone in my neighbourhood put a coin in the basket to help raise money. But it's because of my sponsor that I am able to be here and I will always be thankful. When I am a doctor I want to sponsor boys to come to this prestigious school too.
Starehe has helped me grow in confidence as well as help with my academic studies. I am a music student and I love swimming - I helped my team become house number one and I am very proud of my medal. I remember in form 1 I had to sing the national anthem in assembly and not even a note could be had - my voice went and I was sweaty and shaking! My teacher gave me encouragement  - he would say 'know yourself, believe in yourself and achieve your highest aspiration'. Now I can belt out the loudest note in the school parade!"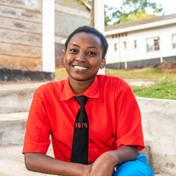 Sharon Nkatha
"Ever since I was little I had always wanted to join Starehe girls. Throughout primary school my passion to attend the school grew and grew and I worked hard with my studies. I feel so lucky to be here. Starehe is the best school with the best facilities and the best opportunities. I enjoy everything about it - from the teachers to the environment. 
I was very sad when the school was closed because of coronavirus. I went home to Kyathani with my sister and we helped my mum in her shop. We are a small family as my dad died in 2009 so I barely knew him. 
I missed my friends, my studies, the teachers - and the wonderful sound of the school band while the school was closed. I got some school work done while I was at home, but it was hard to focus.
During the lockdown my family suffered because of lack of money. My mum got sick and as she provides the only source of income, it was hard to cope. It wasn't easy, but we still managed to come through.
I have been so happy to be back at school and have enjoyed catching up with my friends again. I feel I have grown spiritually since I have been back. I enjoy doing chemistry - I enjoy all the sciences really. 
I feel Covid-19 has affected my schooling. I have been struggling to catch up and I am still trying to make up for the time I have missed. I had forgotten a lot of what I had learnt when I first came to the school, but thankfully it is starting to come back. 
I am now waiting for the results after the exams. I am worried that I haven't done as well as I would like. I have a lot to cover in the remaining years I have at the school, but I know I have the opportunity to catch up and I believe I can do it.
One of the many wonderful things about Starehe is the opportunities it gives you. One of my dreams is to visit other countries. At Starehe, if you perform well, you can get a scholarship to go abroad so that is what I am going to focus on for the future."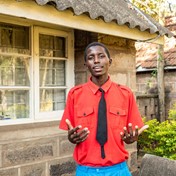 Aron Mwange
"I come from the eastern part of the country - a very dry area - and I am the eldest of five siblings. My parents are casual labourers and struggle to earn enough to look after us.
I am very fortunate to be here at Starehe and I work hard in order to become a better person in my life and help my family.  I have enjoyed meeting people from different parts of the country - and I love to swim!
When school was closed because of coronavirus I had to return home and it was very challenging. It was very difficult to find work and my parents struggled to get food for us. I helped out by doing some work, like looking after livestock and other casual labour so that I could get some cash to help the family. Everybody was affected by Covid-19 because it just interrupted everything. So even the work we found didn't bring us enough money. It was just survival.
I tried to spend some time reading while school was closed - but it was tough. In school, if you feel stressed you can talk to your friends and that helps. But at home, you just sit there, not eating food well. There are some very strict parents, and you can disagree, but you just go on and think on as life continues.
I found it really challenging coming back to school. I had forgotten a lot of detail about our work, so had to refresh again. Before coronavirus you could interact with other schools, but now it's only here at school, and many of the extracurricular activities have stopped. 
I know that Starehe will help me achieve good things in my life. I work hard, and in the future I want to be a civil engineer so that I may help my family and achieve my goals. Being at Starehe means a better future for myself and for my siblings."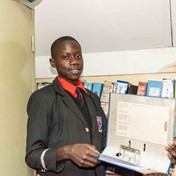 Charles Imbiaha Shitandi
"My mum and dad passed away when I was 8 so I live separately from my five siblings. I live with my step brother who's my guardian. 
Starehe was always my dream school. When I was in primary school I was passing a shop and I saw boys in red and blue uniforms crossing over the footbridge. I said then: 'that is my dream school - that is where I want to be after finishing primary'. And here I am. I'm proud of myself and I'm proud of achieving my goal of coming here.
When I look back it will be the academic studies I enjoyed the most - the classes and the contact with the teachers. I like how disciplined the students are and how they conduct themselves: we have the freedom to achieve whatever we want to achieve. 
When the school was closed I helped my guardian with his farm work. I am like a role model to my nephew and niece, so I made sure they were clean, cooked for them and took care of them.
What I missed most about school was the routine of the school day - and especially the food! We had only just been introduced to a new food called burgers and I missed them so much!
Whilst coronavirus greatly affected my schooling, personally it also affected me positively.  During the time I was at home I had the courage to talk to many people. Before Covid-19 I had that fear, but during this period I learnt how to befriend people and help them. I was actively involved in the church activities - planning the sunday services, meetings, cleaning the church and communal work. It helped me understand the impact I could have on others.
Thankfully Covid-19 did not have a big financial impact on my family. My step brother stayed in work, but we didn't see him during that time as he stayed at his working place. However, I am worried now about the impact of coronavirus on my academic performance. My fellow pupils have also been affected by pressure of schooling due to Covid-19 - that is my worst fear that I will suffer too.
Attending Starehe means a lot to me. We have pupils coming from every part of the country and it gives me the opportunity to interact with many people, to understand their feelings and how they cope with their lives. If you do well in your academic studies, you have the chance to study abroad and it's the opportunities it gives you that I value so much.
Starehe has taught me how to give back to the community. It's a charitable institution with many students like me. It gives me an opportunity to think about the importance of helping other people and giving back to others to help raise their living standards."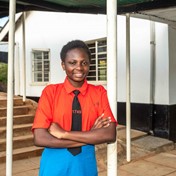 Patience Pamela Osika
"Being at Starehe is first of all a privilege. When I was at primary school I used to hear the name Starehe, and from that moment I knew I wanted to come to Starehe so badly.
Coming to Starehe has been such fun. It has taught me a lot about the importance of character. When you go out into the world, people respect you for who you are and how you conduct yourself. This comes from being at Starehe and from the importance of discipline and respect that is emphasised in this school.
When I am older and I look back on my time at Starehe, I know that I will have happy memories. Most of all, I will remember the sisterhood at the school and how important my friends have been - they have always been there for me.
When the school closed because of coronavirus I found it really difficult. I went home to stay with my mum and dad. My sisters are grown up so it was really just me in the house - I really missed my school friends. I was able to spend some time perfecting my skills in art and in spoken words. I love to perform poems and have just started to write my own poetry. I have used poetry to try and help people to understand what depression is and to help those who suffer with it. One of my relatives passed away through depression so I know how devastating it can be. 
I tried to work hard on my studies while I was at home. Every time I thought about not doing it, I decided to do it because then I'm pushing myself. I knew that I needed to get better at my maths and biology in particular. 
Covid-19 made me realise myself - who I am meant to be. Before then, at times I used to lower my self esteem but coronavirus has made me realise I can do much more. 
In the past, I would say to myself 'yes - I'm bright; but no - I can't reach that far'. But during the Covid-19 period, I used to watch videos about so many people and realised I can go that far myself and that I can build up myself to become more. I am more confident right now than I was before. I am determined to catch up with my school work and to achieve the most I can for myself and make my family proud of me.
Attending Starehe is a unique opportunity. I know that Starehe will help to shape my character and grow my confidence. In the future I know I will be a leader somewhere because that's what it's teaching us to be."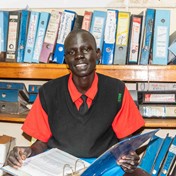 Kuir Mading
"I am from South Sudan and came to Kenya with my brother due to the civil war in our country. We stayed in a refugee camp for 3 months and then we moved to my aunt's house and lived with my cousins. 
We have been living with them for around 10 years and they have been very good to us. My aunt knits and makes clothes and that is how she generates the income to take care of us and her two sons.
I call Starehe a land of opportunities: here you can become who you would like to be. Starehe helps many young needy boys from all over the country - to help them have a better future and to become better men.
When school was closed I had to go home and look for a job. Coronavirus affected me in many ways: it has delayed my studies and has set me back in my learning. When the lockdown came my aunt lost some customers and it greatly reduced her income. We would often miss lunch and it was difficult to have enough to eat for supper.
I'm very happy to be back in school now. I missed everything about the school - the lessons, especially the PE lessons. I am happiest when I'm playing football and having swimming lessons.
But I am worried about the future. I hear people talking about coronavirus and my great fear is that they might close schools again.
Right now there are areas we can't enter - the library and other areas we can't access. That makes it very difficult to access books and I miss not having a quiet place to study. 
Attending Starehe boys centre means a lot to me. This was my dream school - I was told about the school by my cousins. I used to work very hard knowing that I wanted to come to the school and I feel proud that I managed to get here. If it wasn't for Starehe I wouldn't be in secondary school as my guardian would not be able to afford my fees. 
I am very sure that at the end of my four years here I will leave the gates of Starehe as a great man."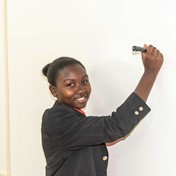 Faith Moseta
"I love the diversity and the culture of Starehe. I enjoy getting to meet girls from different backgrounds and from all over the country. Together we help each other to strive and to propel each other into getting better grades. 
Our teachers tell us you are not learning for yourself, you are learning for your community back at home. People at home will always say 'our girl is in Starehe girls' centre', so when you take back the A-grade, they will say 'our girl got the A'.
I have one brother and two sisters and we live with my Dad who is a casual labourer and my mum who is currently looking for work.
When I was at home while the school was closed I learnt a lot of new skills. I went to a centre started for street kids - it's free for any child to learn skills. I learnt how to bake, how to play the guitar and also how to play basketball. I did some school work - my parents were very strict and made me write a timetable and I wanted to work as hard as I could.
I missed interacting with my friends. It was hard not to be able to ask guidance from a teacher and to get advice from people and know what they think about a situation. Covid-19 affected me and my family. We had saved up some money to invest in some projects at home to help us build up a business, but we had to put this on hold.  
Since returning to school I have felt under a lot of pressure: we have the shortest time to catch up with our studies. Before we could learn from students in other years in the school and interact freely with others but now we cannot. Some programmes have been affected, for instance we had a reading programme when students from other schools would come together but that's not happening now.
At Starehe we are told to take our chance because it only comes once. All the learning we're exposed to and the facilities are really wonderful. We've heard from the alumni that when they go for a job interview they are impressed to hear they went to Starehe and that is very encouraging to hear."